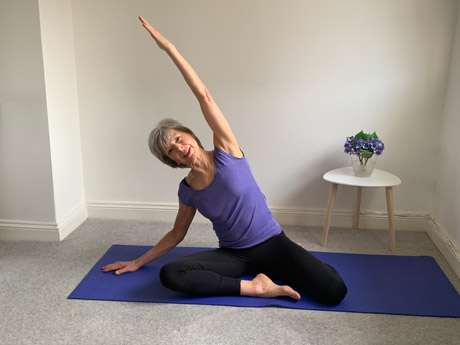 When I discovered Pilates, I knew it was my kind of exercise and something I wanted to teach. As someone who has danced from an early age, the concept of working from a strong centre really resonates with me. But you don't have to be a dancer to be able to practice and gain tremendous benefits from the varied, multi-muscle exercises in the Pilates repertoire.
My interest in dance, yoga and other bodywork techniques informs my class content and style of teaching.  I believe that looking at the body as a whole, not just individual parts, is the key to restoring and maintaining fitness and well-being. The Pilates method, with its focus on posture, alignment and mindful movement, fits well with this philosophy.
I find it very rewarding that by teaching Pilates I provide people with the means and opportunity to help the body to help itself, bringing about lasting change and an improved quality of life.
I trained with Michael King and the Pilates Institute. I hold a CYQ Level 3 Pilates Matwork Diploma, the highest current level of Pilates qualification meeting national standards agreed by the fitness industry.
I continually update and enhance my skills by attending workshops, conferences and courses, including:
Diamond Pilates for Pelvic Floor Health
Pilates for Shoulder Rehabilitation
Exercise for Low Back Pain Management
Healthy Back and Spine Rehabilitation
Pilates with the Fitness Circle & Foam Roller
Pilates with the Mini Ball and Stability Ball
Pilates for Seniors